Cookies & Cream Dessert

Desserts that have ice cream or cookies are always a hit.
Combining both in one dessert can never go wrong.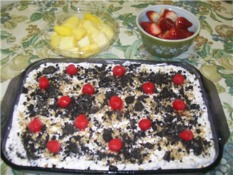 A discussion with a co-worker about different recipes resulted in the following recipe being created. 
Cookies & Cream Dessert.
1 Pkg (15oz) chocolate sandwich cookies
1/2 gal french vanilla ice cream softened
16 oz whipped topping
8 oz cream cheese softened
1/2 cup chopped walnuts or pecans
chocolate syrup (optional)
cherries
Finely crush cookies. Set aside 1/2 cup to be used as topping.
Place half of crushed cookies in the bottom of a 9 x 13 dish to form crust layer.
Spread softened ice cream over crust layer. Cover and place in freezer while working on next step.
Thoroughly blend whipped topping and cream cheese together. Add the rest of the crushed cookies and mix together well with a spoon.
Spread over ice cream. 
Drizzle chocolate syrup over top of whipped topping mixture if desired.
Sprinkle chopped walnuts or pecans over top of dish. 
Sprinkle 1/2 cup crushed cookies over top of nuts.
Garnish with cherries. 
Cover and freeze until ready to eat. 
Let set at room temperature for 10 to 15 minutes before serving.
After making the dessert for an office birthday celebration, many variations were discussed along with volunteers offering to try any and all variations made. The birthday person requested that this recipe be used for all future birthdays. 
Variations that were discussed but have not been tried.(YET): 
Use vanilla flavored cookies in place of chocolate.
Use chocolate chip, peanut butter, or butterscotch morsels in the whipped cream and cream cheese mixture. Instant coffee was also mentioned as a flavor to try.(start with 2 tbsp coffee and add more if needed)
Use your favorite candy bars crushed into small bite sized pieces as crust or in whipped topping and cream cheese mixture.
Chocolate or any other flavor ice cream can be substituted in place of the french vanilla. 
An adventurous spirit and a well stocked kitchen can result in all kinds of delicious new recipes. There is never a shortage of people who are willing to try something new and different.
TO LEARN ABOUT AQUAPONICS...
Click Here!


 For Holiday Season Shopping. Community storefront
 merchants. Property Development Real Estate Finder
 Firm Listing.Internet marketing advertising service. http://www.newyorkone.us/
Up to top
100 Things to do for active people. From high adventure to community service and spiritual these ideas will keep you engaged in life. http://100thingstodoinretirement.com/
The best places to retire. Peaceful small towns and beach retirement, safest cities, places to reinvent yourself, art communities and more. http://bestplacestoretireintheus.com/
Thanks for visiting!
 Please visit our affiliate page and support our sponsors!