Chocolate Recipes
Every family has their favorite chocolate recipes. 
We would like to share some of ours.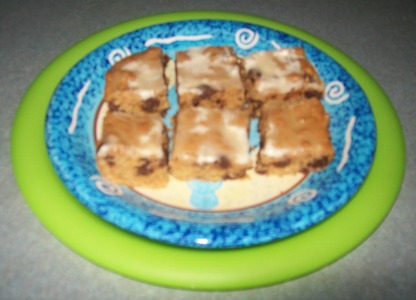 COFFEE TOFFEE BARS
2 1/4 cups sifted self-rising flour
1 cup butter
12 oz semi-sweet chocolate chip morsels
1 cup brown sugar
1 tsp almond extract
1/2 cup pecans (optional)
1-2 Tbsp instant coffee
Cream butter.
Gradually add brown sugar, creaming well.
Blend in almond extract and instant coffee.
Add flour, gradually.
Blend thoroughly.
Stir in Chocolate chip morsels & nuts.
Press dough into well greased 9 x 13 baking pan.
Bake at 350 degrees for 20-30 minutes until done.
Allow to cool for 15-20 minutes.
Then, add glaze while still warm.
Cut into squares when cooled and glaze hardened.
ALMOND GLAZE
1 tbsp soft butter
3/4 cup sifted confectioner's sugar
1/8 tsp almond extract
1-2 tbsp milk
Mix together well and spread evenly on warm bars.
TO LEARN ABOUT AQUAPONICS...
Click Here!


 For Holiday Season Shopping. Community storefront
 merchants. Property Development Real Estate Finder
 Firm Listing.Internet marketing advertising service. http://www.newyorkone.us/
To visit chocolate.com, click here
Thin Layer Chocolate Cake
1 cup butter or 1 cup shortening and 1 tsp butter flavoring
2 cups sugar
2 tsp baking powder
1 - 2 tsp vanilla flavoring
3 1/2 cups cake flour
4 eggs
1 cup whole milk or 3/4 cup whole milk and 1 can sweetened condensed milk
Sift flour twice and add baking powder to the last sifting.
Cream sugar and butter together.
Add eggs one at the time beating continuously.
Mix thoroughly.
Add milk and flour, alternately.
Add sweetened condensed milk and flavoring(s).
Measure 1 cup batter and pour in each pan.
Bake at 350 degrees.
Do not overcook.
Layers should be moist and lightly browned.
Cool layers thoroughly and frost with the below icing .

FOUR MINUTE COCOA ICING
2 cups sugar
1/2 cup cocoa
2/3 cup whole milk
1 stick butter
1 -2 tsp vanilla flavoring
Place sugar, cocoa and milk in boiler.
Bring to a boil on medium heat.
Boil hard for four minutes, stirring constantly.
Remove from heat.
Add butter and vanilla.
Let cool for 15 minutes.
Then, beat until glossy.
Spread on cake.

Valentine's Day edible fruit bouquets, backed by 1-800-Flowers.com, $30 value for $15!

CHOCOLATE DELIGHT

1 box brownie mix
Bake according to directions and let cool.
2 packages instant chocolate pudding (Use 1 box if only making one layer.)
Mix according to directions.
16 ounces whipped topping (optional)
chocolate syrup
1 cup chopped pecans (optional)
Break apart 1/2 of the pan of brownies and place in the bottom of a bowl.
Drizzle syrup over brownies.
Add a layer of pudding using 1/2 of pudding.
Then, add a layer of whipped topping.
Do not use more than 8 ounces on each layer. (Can use less if desired.)
Drizzle syrup over whipped topping.
REPEAT all layers and top with chopped pecans.
Refrigerate for at least 1 hour before serving.


Hope you enjoy these delicious recipes as much as we do!

100 Things to do for active people. From high adventure to community service and spiritual these ideas will keep you engaged in life. http://100thingstodoinretirement.com/
The best places to retire. Peaceful small towns and beach retirement, safest cities, places to reinvent yourself, art communities and more. http://bestplacestoretireintheus.com/
Thanks for visiting!
 Please visit our affiliate page and support our sponsors!